The band Katrin consists of bassist Kevin Marini, and drummer Pete Abdou who formed the band with singer/songwriter Katrin Roush in September of 1999. The union of these three hard-working musicians has drawn attention from audiences and musicians alike.
The music is driven by Katrin's dynamic acoustic guitar and powerful vocals, which are evident on the band's upcoming CD, to be released by Fall 2001.
Katrin performs live frequently and can be seen in clubs around the New England area such as: The Middle East, The SkyBar, The Attic, The Blackstone, and many more (see gigs). The band is looking to expand their audience base with extensive touring and promotion of the new release.
Katrin's EP has already sold hundreds of copies and was featured on "Boston's Best Singer/Songwriter Compilation", and can also be heard on WERS 88.9, WBRS 100.1, and www.radioboston.com.
THE MEMBERS OF KATRIN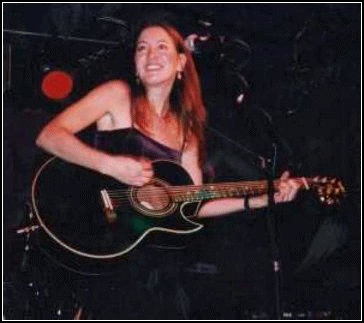 KATRIN ROUSH
Lead Vocals, Acoustic Guitar
"I really enjoy working with this band, because they encourage and inspire me in my writing. We all have unique qualities that make up a greater whole and bouncing ideas off these guys always brings more energy to the songs. I am looking forward to the release of this CD, because everyone has had fun writing and recording it."
Katrin is a singer/songwriter from Boston who has been crafting her music since 1992. Katrin writes soulful and passionate songs, both melodic and energetic. With thought-provoking lyrics and an uplifting voice, she takes the listener on a journey that explores a woman's raw emotion. Her acoustic guitar songwriting style allows her talent to shine both in an acoustic setting and rocking out with a full band.

As the daughter of a Methodist minister, Katrin Roush's earliest musical experiences were of the church and home. Although she has had little formal training, Katrin began singing at age three and has devoted her life to the development of her unique songwriting style.
Katrin's musical efforts have taken her as far as the Fringe Arts Festival in Edinburgh, Scotland; a venture funded by "busking" on the streets of Harvard Square.

In 1998 Katrin went solo to persue a more intimate and self-styled way of songwriting. That same year Katrin's three song EP came into rotation at college radio stations. She has made various guest appearances on Emerson College's Coffeehouse and Boston's newest form of broadcast, www.radioboston.com

Katrin was also a finalist in the regional "Folk Off" singer/songwriter contest held at the Cantab Lounge in Cambridge.
Katrin has been well-received by audiences both as a solo artist and gigging with her rock band. Her anticipated full-length CD is currently being recorded at Edagener Productions in Quincy, Mass.
---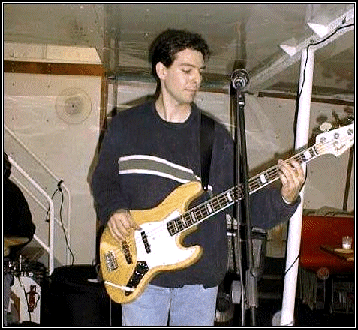 KEVIN MARINI
Bass Guitar, Backing Vocals
"I feel that the role of the bass is to move the song. The groove is everything, period. What I like best about this project is that Kat and Pete really challenge me creatively. The dynamics of our arrangements can be quite extreme, but the groove has to be rock solid."
Kevin began playing piano at age thirteen. Before long, he decided to give the bass a try. By 1990 he was avidly playing and recording in and around southern New England with King's Ransom, a local band from Rhode Island. During his years at the University of Rhode Island, he gained experience by performing rock and jazz with several groups. In 1997, after knowing each other for years, Kevin and drummer Pete Abdou finally started working together.
---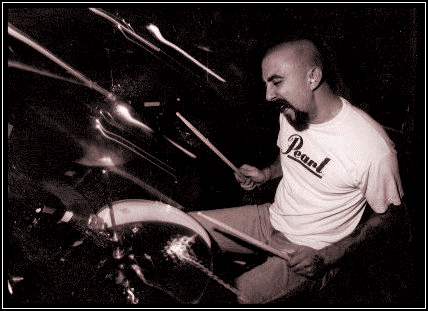 PETE ABDOU
Drums, Percussion, Backing Vocals
"Drums are forever in me, and to be able to do what I love for a living is incredible."
" Being in this band reminds me of that every time we hit that stage, this band has inspired me and challenged me since day one"
Since 1986 Peter has been playing in bands. In 1989 he started his club experience all around the RI and MA areas. By 1993 he was on his first U.S. tour and up to present day has performed in almost every state in the country. He has also gotten involved in many recording projects over the years for all kinds of artists from pop groups to punk, instrumental jazz to funk, his love for the drums is what drives him to all these styles. He started his teaching career in 1997 and is now steadily instructing over 40 students a week.. His highest honor so far has been his 1998 article in "Modern Drummer" magazine. He continues to push forward with his drumming career with no sign of letting up. For more information on Pete check out his website at http://go.to/peteabdou